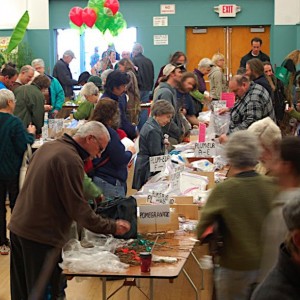 Our most popular event is the Scion Exchange we host every January, open to the public.
This event is not to be missed for all fruit enthusiasts. We focus on sharing free scion wood from all sorts of fruit trees and vines — common favorites, heirlooms, rare and experimental varieties – usually 500+ varieties. We supply rootstocks to graft them onto at a nominal price, and expert grafters who can custom-graft fruit trees on the spot for a nominal fee.
In addition, multiple vendors supply a tremendous variety of fruiting plants you won't find anywhere else for some incredible deals.
We offer free grafting demonstration classes for beginners, plus experts are available to answer your fruit-growing questions.
Event Details
The upcoming annual scion exchange will be held on Saturday, January 25, 2020 at the Santa Rosa Veterans' Memorial. Check our upcoming events page for additional details. Members also share scions throughout the year – membership info here.
Members-only early access: 9:00 a.m – 10:00 a.m
General public access: 10:00 a.m. to 2:00 p.m.
$5 for members and non-members, kids free.
---
Collecting and Sharing Scions
Collecting Scions at the Exchange
Bring gallon ziplock baggies, tape and a sharpie marker to label your scions. Help yourself to no more than a scion or two of each variety you will really graft this year.
Download our Scion Exchange guide (pdf).
Preparing Scions for Contribution
Please take care in the labeling of any scions you'd like to bring to the Scion Exchange. Scions should be cut from clean, one-year-old wood, about 1/4 inch in diameter and generally no more than 6 inches long so that they fit in attendees' gallon ziplock bags. Please bring then in clearly-labelled gallon ziplock bags.
Download the Scion Label Form
Patent and Quarantine Information
Only scions from non-patented non-quarantined trees may be brought to the exchange.
VIDEO: Getting Ready for the CRFG Scion Exchange
Additional Links
Additional scion exchanges are held at CRFG chapters throughout California, Texas, Arizona and Nevada. Click here to find the closest chapter and whom to contact for dates of events.