See Upcoming Events Page for Dates and Locations:
The first Saturday of January is usually the gathering of scions at Prusch Park in San Jose.
In January on the third or fourth Saturday is the scion exchange.
In February or March is an additional grafting clinic and practice session to follow up the scion exchange. For members only. You can join at the clinic if you complete and bring the membership application below.
In March, proficient grafters and helpers gather to graft custom trees for the July plant sale, and add to personal collections. Volunteers welcome, if only to learn, and shovel dirt into pots and/or label grafted trees.
In April, May or June there is often a garden tour or other event.
July is the annual potted-tree fundraiser sale.
In August through October we partner with Slow Food to do public cider pressings/tastings to support our club, Slow Food, farmers, and the Farmer's Markets.
In August we sometimes exhibit at the Sebastopol Gravenstein Fair.
September includes Fig Day at Wolfskill Experimental Orchard-UC Davis' experimental farm in Winters-, including tasting of fig and grape varieties.
September we host a display at the National Heirloom Exposition (see calander for dates) Our chapter's display won best of show in 2011, and a blue ribbon in 2012, 2013, 2014, 2015! In 2012 we hosted the international CRFG meeting in coordination with the Expo.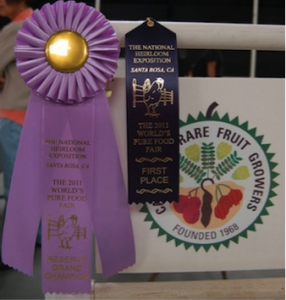 August and September includes training on the cider press available for loan to members. Make your reservations early. The cider press is free for use by members, and is quite busy during this season. We also have a smaller juicer available to members.
In October is a blind apple tasting and tour of member's orchard.
See John Kohler's video on the results of the blind tasting of 44 varieties at 2011 apple tasting results
November is the pomegranate tasting at Wolfskill Farm, 4334 Putah Creek Rd, Winters, CA 95694
In December is an annual business meeting with officer and committee elections, and either a tour, or potluck, or event. Volunteers and attendees are always needed!
The 2012 meeting was at Deloach Vineyards, and included a presentation on biodynamic farming, followed by a private winetasting of biodynamic wines, and a tour.
All of this is supplemented with announcements of monthly and spontaneous activities in local chapters throughout Northern California open to our members.