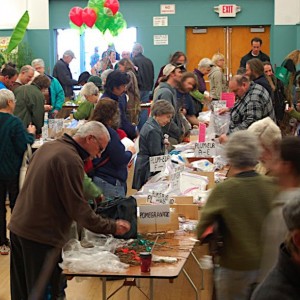 Virtual Scion Exchange for 2022!
While we can't get together in person this year, we're pleased that the Santa Clara Chapter has invited CRFG-Redwood Members to join their 2022 Virtual Scion Exchange Website!
The virtual scion exchange site is for MEMBERS ONLY. Use your email address to log in. If you have not paid your 2021 CRFG dues, you won't be able to enter the site. Please contact David Ulmer at davidu9999 at gmail dot com if you have trouble logging in. It could mean that you are using a different email address than the one we have on file or that you have not paid your dues or paid after the chapter list was added to the site files.
You can contribute (offer) scions and you can request scions. You'll see both lists on your home page. If someone has a scion you requested, you'll see their name with an email link. Contributors also see the names/email addresses of people who want their scions. It's easy matchmaking. The more scions on offer, the better. Please walk around your garden and make a list of what you will be pruning, and then offer those scions on the site. Don't be afraid to contribute "common" varieties or varieties you think no one would want. You'll be surprised sometimes.
You arrange your own scion transfers. CRFG and its chapters assume no risks for scion transfers. It is up to you to use safe protocols to transfer scions. Please respect agricultural rules, too. Plum bud gall mite is an issue, for example. We will not be sharing plum, apricot, or their hybrids outside of the north bay counties. More about that in later emails. Also, we do not share citrus scions.
Absolutely no patented or Trademarked cultivars are allowed (unless you hold the patent). If you aren't sure, please pose a question on this forum.
A few points:
There is no limit to how many scions you contribute, but you can only have ten active scion requests at any time.  If you make a mistake entering a new scion variety, please go to Help/Feedback to correct it. Editing capability will be coming soon, but the website administrator can fix the mistakes, for now.

Most of us will keep the scion on the tree until right before it is picked up or mailed.

Each person will pick their own method of scion transfer such as bagged scions to be picked up at the end of the driveway, cut your own, mailed, or a combination of all.

Please be polite to your fellow fruit growers.

Look close to home first. Not every CRFG member is willing to mail scions. Some of us will be charging a nominal fee to ship scions, but always plan to reimburse shipping expenses.

Reduce clutter: once you have arranged to pick up a scion, please remove your request.

See the website's Help page for more info.

Again, the login page is here: 2022 Virtual Scion Exchange Website!
Special Thanks!
Big shoutout to CRFG-Santa Clara Valley member Richard Delfs for the tremendous effort of creating the virtual scion exchange and to CRFG-Redwood member David Ulmer for his tireless efforts connecting and supporting our group.
Previous Scion Exchanges
We're looking forward to getting together again in person in 2023. See below for photos and information from previous scion exchanges.
Our most popular event is the Scion Exchange we host every January, open to the public.
This event is not to be missed for all fruit enthusiasts. We focus on sharing free scion wood from all sorts of fruit trees and vines — common favorites, heirlooms, rare and experimental varieties – usually 500+ varieties. We supply rootstocks to graft them onto at a nominal price, and expert grafters who can custom-graft fruit trees on the spot for a nominal fee.
In addition, multiple vendors supply a tremendous variety of fruiting plants you won't find anywhere else for some incredible deals.
We offer free grafting demonstration classes for beginners, plus experts are available to answer your fruit-growing questions.
---
Collecting and Sharing Scions
Collecting Scions at the Exchange
Bring gallon ziplock baggies, tape and a sharpie marker to label your scions. Help yourself to no more than a scion or two of each variety you will really graft this year.
Download our Scion Exchange guide (pdf).
Preparing Scions for Contribution
Please take care in the labeling of any scions you'd like to bring to the Scion Exchange. Scions should be cut from clean, one-year-old wood, about 1/4 inch in diameter and generally no more than 6 inches long so that they fit in attendees' gallon ziplock bags. Please bring then in clearly-labelled gallon ziplock bags.
Download the Scion Label Form
Patent and Quarantine Information
Only scions from non-patented non-quarantined trees may be brought to the exchange.
VIDEO: Getting Ready for the CRFG Scion Exchange
Additional Links
Additional scion exchanges are held at CRFG chapters throughout California, Texas, Arizona and Nevada. Click here to find the closest chapter and whom to contact for dates of events.