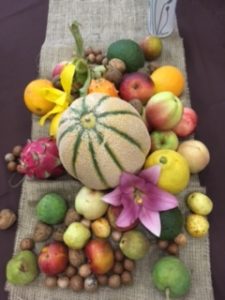 CRFG Member Maile Pieri attended the 2016 Festival of Fruit in San Luis Obispo County and provided the following writeup and photos. Thanks, Maile!
Black Diamond  Vermicompost in Paso Robles.
CRFG members were given an amazing tour, by Cristy and Jack.  They raise worms in their off-the-ground continuous flow thru bins.  As surface dwellers and feeders, the worms generally hang out in the top 6-8 inches. The bin is 24″ deep (45 feet long), they we make a "cutting", and take off an inch or so of vermicompost, which has been thoroughly worked through by the worms.  The fresh vermicompost (you see on the floor) is very wet so it dries for a while on the floor before it's screened and packaged for sale.  There is no smell here what so ever.  Great tour!
Mt. Olive Organic Farm in Paso Robles
This sustainable organic farm provides organic healthy food while benefiting the environment and all the living things around. They don't use any chemical pesticides, herbicides, fungicides, or synthetic fertilizers.  They grow fruit and produce and farm cows.
They raise earthworms and use the castings, our own compost, beneficial microbes and old-fashioned farming practices to produce the best, the earth has to offer.
Kiler Olive Farm in Paso Robles
CRFG members were treated to a Tuscan style olive oil tasting at the beautiful top of the world location of Kiler Olive Farm, with Gregg Kiler.   We tasted 5 oils ending with a commercial brand many of us have in our kitchens.  I think our tastes buds woke up to what 'fresh' really is.  We left with a couple of fresh bottles.
In their 'frantoio' eco-friendly straw bale building, is the milling equipment and olive oil storage tanks.  It is fully solar powered, and walls are finished in natural clay plater.  They sit on 58 acres and farm 2700 olive trees, varieties originating from Italy and Sicily.  They first produced olive oil in 2010 winning many medals for their EVOO.
Later some who lingered, were offered a tour of the mill facility with the owner.  There we got to see the core of the business ~ from the receiving, to pressing, to bottling and packaging.   It was an incredible tour and Gregg was very generous in sharing what he has learned along the route of making olive oil.  His energy was endless.  He truly loves what he does.