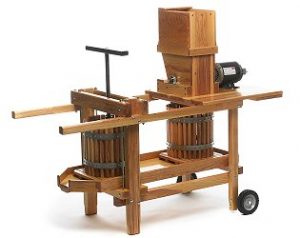 One of our many club benefits is our Correll Cider Press available for loan at no cost to members for juicing apples and other pome fruit (but please not grapes or stone fruit.)
The Correll press is one of the best-made small cider presses in the world.
According to its maker, "Cider Bob:"
"We can make only 3 presses a week in my converted goat barn. I have one full time craftsman working with me. I will be 79 years old on Oct 2010, and -while my desire is to put in full weeks in my shop- stamina and age-related issues curtail some of that. Forbes magazine did an article in their mid-September 2005 issue saying they had researched the world and kept coming back to mine as the best they could find. An article in Oct of 2006 was picked up by the Associated Press and made available world-wide. I have presses in several foreign countries as a result. After the Associated press article, orders climbed to 184 presses by mid January of 2007. It has taken the last three years to climb out of that backlog."
Contact Phil Pieri for reservations. Reservations for weekends in-season need to be made very early, as it is used for numerous public events, but weekday reservations are usually easy to get.
You can download a pdf set of instructions or view a a photo set of instructions at the Correll website.
This year we added a set of buckets and tubs for ease of use. If you break or lose one, we bought them at Lowe's in Cotati, where replacements can be obtained.
Happy cider making!